"Technology.simple" is our tag line, and what we stand for. Our focus is on people and their experiences with technology. The solutions we create are reliable and simple to use and tailored to your specific needs. Above all, they help your people work better and enhance their day to day lives.
konnectus specialises in Audiovisual, Communications and related Technologies for the integrated built environment. Our core expertise includes modern workspaces, education facilities, experience centres and performance spaces. Our team of experienced professionals customise service plans to meet your specific goals.
ALL OUR WORK IS PERFORMANCE GUARANTEED
Every customer we work with, and every technology project we work on, is unique. As such, our approach is not "one size fits all". Everything starts with a FREE Discovery Session. Once we understand you and your unique goals, we customise a plan and assign a friendly team to work with you.
Detailed below are the core services we can offer you but feel free to ask us for something different. Chances are our experienced team or wider network of Key Partners will be able to help you.
"konnectus are key trusted partners for Shape. Simple to use technology, and reliable professionals to work with, these are two of the many reasons we prefer to have konnectus on our team every time we need AV consultants on a project."
Maryanne Akari

Project Manager
"The konnectus team are highly responsive and always deliver as promised. I have especially appreciated their independent approach which, instead of being technology led, starts with the focus on uncovering our true needs. This combination has made konnectus my trusted partner in AV technology."
Byron Subota
Project Manager
"Cerno has worked with konnectus on a number of corporate office fit out projects and knows the team very well. They are experts in the audio-visual technology field providing unique and customised AV solutions."
Phillip Rodrigues
Senior Project Manager
"I have worked with konnectus on a number of projects and have been always happy with the quality of service they provide. Their specialty in designing AV for modern collaborative teaching spaces and their dedication to deliver on their commitments, is why we always go back to konnectus if we need external advice on AV."
Peter Attard

Senior Project Manager
"konnectus team are very thorough, knowledgeable, and easy to deal with. The time they spend to understand our requirements is what makes them different from other consultants. They provide practical solutions to problems a business may face in terms of AV Technology."
Patrick Tagliazucchi
IT Project Manager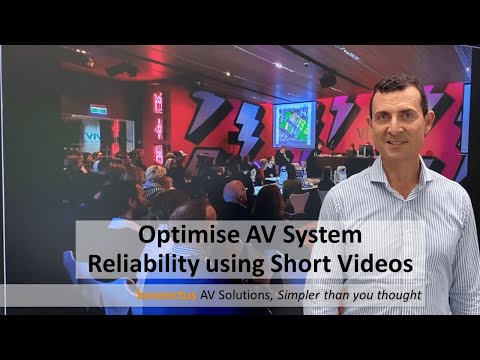 You all want your AV systems to be as reliable as possible. Aside from great design, the quality of installation is key to achieving this goal. One way to align the expectations of the designer, installer, and client is…